The Best Gifts for Bourbon Lovers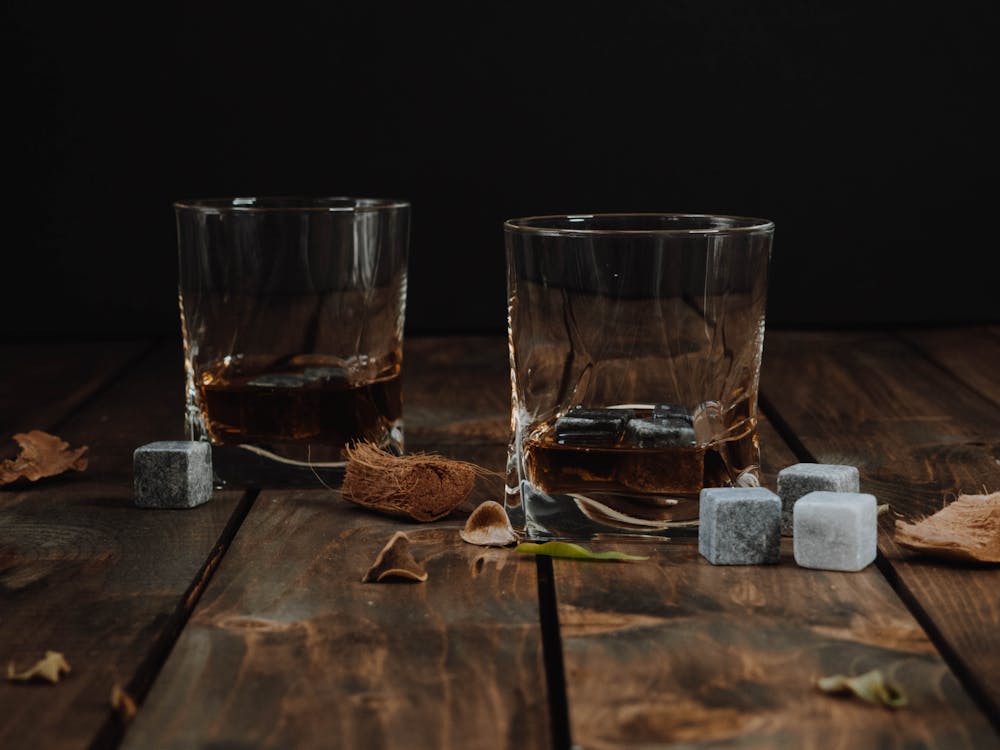 We all know someone who can tell us the difference between "whiskey" and "whisky" — that person might even be you. But on the off-chance you're not a whiskey expert, you've probably spent far too long browsing the internet trying to find the perfect gift for your friend who is one. Unfortunately, the world of spirits isn't always kind to newcomers, so this task can seem more daunting than it should. To help you find the proper present for your bourbon-imbibing best friend, we've distilled some of the best alcohol-inspired accessories into a shortlist. Check out the article below for our hangover-free guide on what to buy your boozy buddy.
Godinger Whiskey Decanter Globe Set
Godinger's etched globe decanter comes with two matching lowball glasses and a mahogany-stained display tray.
If your best friend is a worldly whiskey drinker, Godinger's decorative decanter should be right up their alley. The globe itself is made of delicate, handblown glass, and the well-weighted matching rocks glasses are etched with the continents, as well. Since this set is made to be displayed, Godinger includes a mahogany-stained tray with a resting place for the globe and indentations for the two glasses. You may want to buy a decanter cleaning set to make sure this stunning globe stays spotless for years to come.
Pros:
Handblown glass globe and weighted rocks glasses are elegant
Mahogany-stained tray is both functional and classy
Decanter's capacity is made to hold a full liquor bottle (and then some)
Cons:
May be difficult to fill and clean without the proper tools
Venero Set of 4 Crystal Whiskey Glasses
The delicate twisted crystal of these Venero lowball glasses makes for an eye-catching bar cart addition.
Whether you call them lowballs, old-fashioned glasses, rocks glasses, or tumblers, there's no denying it: they're all whiskey-sipping royalty. This set of four vessels from Venero features a lead-free crystal construction for a perfectly-weighted drinking experience. The sides and base of each glass are thick enough to withstand everyday use, but the twisted design gives an elegant feel no matter the occasion. Venero even packages these bad boys in a satin-lined presentation box, making this set an even better gift.
Pros:
Lead-free crystal is food-safe and classy
Thick sides and base of each glass are very durable
Presentation box is lined with satin for a sophisticated touch
Cons:
Twisted design can make stirring your drink with ice more difficult
W Whiskoff Whiskey Glasses and Stones Set
W Whiskoff includes eight granite whiskey stones with this set of lowball glasses and coasters.
If you haven't seen whiskey stones before, this gift might seem strange; but we promise there's a reason for throwing a few pebbles in your glass of Pappy Van Winkle. Though many bourbon drinkers like their drink chilled, adding ice can overdilute the liquor, which in turn, loses various flavors and aromas. Instead, freeze the pack of eight granite stones included in this W Whiskoff set and use the handy tongs to drop them in your glass. The rocks will bring the bourbon down to temperature without watering down your Woodford Reserve.
Pros:
Whiskey stones chill your drink without overdiluting it
Set of two lowball glasses have a unique, modern design
Purchase includes two slate coasters and tongs
Granite stones and lead-free crystal are luxurious and easy to clean
Cons:
Stones won't chill whiskey nearly as well as ice
Glencairn Set of 4 Crystal Whisky Glasses
This set of four whiskey glasses from Glencairn is perfect for imbibers who want the full tasting experience.
These tasters might just look like stubby wine glasses, but rest assured — when it comes to the industry standard for curating a proper whiskey tasting, this set of Glencairn glasses is as good as it gets. While the bulbous center of each glass allows the whiskey's aromas to shine, the delicate flare of the rim ensures you're not singeing any nose hairs by inhaling a high-proof spirit. The thick base allows you to hold the beverage without affecting the temperature, which is something your Scotch-sniffing friend definitely cares about.
Pros:
Glasses are made of high-quality, lead-free crystal
Tapered rim invites you to smell and sip simultaneously
Thick base allows for holding the glass without warming your whiskey
Dishwasher-safe
Cons:
Packaging may be less luxurious than other gift options
Barfly 4-Piece Cocktail Set
Check out this shaker set from Barfly if you like to whip up a whiskey sour every now and then.
Some folks love to sip their Sazerac Rye straight up — without ice — but others may be more inclined to whip up a cocktail. If your intended recipient says words like "stirred" or "shaken," check out this four-piece Boston shaker set from Barfly. The stainless steel tins have weighted bottoms for a well-balanced shaking experience, and the Hawthorne strainer makes pouring up cocktails a cinch. The devil is in the details when it comes to mixology, so be sure to make use of the Japanese-style jigger to measure your ingredients. If you're stirring instead of shaking, Barfly even includes a foot-long bar spoon with this set.
Pros:
Stainless steel tins are weighted and durable
Hawthorne strainer fits snugly onto the larger tin
Bar spoon is handy for stirring drinks
Jigger has markings starting at 1/2 ounce, going up to 2 ounces
Cons:
Those who drink whiskey straight may not get as much use out of this set
Frequently Asked Questions
What is the difference between "whiskey" and "whisky"?
Though there's a lengthier, historical reason for the differentiation between the two spellings, we can distill it down to this: Scotch whisky — made in Scotland — and any other spirit made in the Scottish style (e.g., Japanese, Canadian, Taiwanese whiskies) omit the "e." American and Irish whiskeys generally use the "e". Both spellings refer to the same spirit but are used interchangeably depending on where and in what style the liquor was made.
Do liquor decanters serve a practical purpose?
While wine decanters are used for aeration and removal of excess sediment, liquor decanters are exclusively for decoration. Spirits don't "open up" the same way wine does when exposed to oxygen; instead of releasing hidden flavors and aromas, oxidation of higher-proof alcohol strips it of its character. This is why liquor decanters aren't usually as bulbous, and instead come with air-tight seals.